The Truth about Winston Churchill
Winston Churchill was a racist, monarchist, militarist, whiskey swilling alcoholic and cigar smoking incompetent (remember the Dardanelles campaign in WW I) working class hating fascist (an admirer of both Hitler and Mussolini in the 1930s) asshole bastard. After WW II the dumb deluded Brits should have kicked him out of politics for good.
JR (April 2022)
The Churchill Mythology
Winston Churchill was an Imperialist Reptile
Silver Spoon Arch-Conservative Racist, Fear-Mongering War Criminal, Colonialist, Autocrat, Monarchist, Rabid anti-Communist, anti-Semite, Anti-Labour and cigar smoking drunk
Let's set the record straight about Winston Churchill. It's far past the time to cut through the endless bullshit we have been fed in our whitewashed history courses and corporate media idolizations...
By John Q Public and Joe Lunch Bucket
I have told many lies for my country and I will tell many more – Winston Churchill
Bio of the bastard's early years:
Winston Churchill was born in Blenheim Palace, Woodstock, on 30th November, 1874, just seven and a half months after his parents, Randolph Churchill, a Conservative politician and Jennie Jerome, the daughter of Leonard Jerome, a New York businessman, were married.
Winston Churchill was born into the small, immensely influential and entitled wealthy circle that still dominated English politics and society. For the whole of his life he remained an aristocrat at heart, deeply devoted to entrenched English class divisions, the traditional entitlements of the British aristocratic caste, the interests of his family and drawing the majority of his friends and social acquaintances from the top echelons of the hierarchy. From 1876 to 1880 he was brought up surrounded by servants amongst the splendours of the British dominance and ascendancy in Ireland.
Winston Churchill was sent to an expensive posh preparatory school, St George's at Ascot, just before his eighth birthday in November 1882. This pampered hiatus was followed by a period in a boarding school in Brighton. He was considered to be a bright pupil with a phenomenal memory but he took little interest in subjects that did not stimulate him. It was claimed that he was "negligent, slovenly and perpetually late." He was very lonely and in February 1884 he wrote to his mother: "I am wondering when you are coming to see me? I hope you are coming to see me soon... You must send someone to see me."
In April 1888 Winston Churchill was sent to Harrow School. His behaviour remained bad. At the end of his first term his housemaster reported to his father: "I do not think... that he is in any way wilfully troublesome: but his forgetfulness, carelessness, unpunctuality, and irregularity in every way, have really been so serious... As far as ability goes he ought to be at the top of his form, whereas he is at the bottom."
If not born into privilege, Winston would likely have ended up as a dustman, third rate clerk or driving a taxi (badly).
Winston Churchill started his 16 month course at the Royal Military College at Sandhurst in September, 1893. Churchill joined the Fourth Hussars in 1895 and saw action on the Indian north-west frontier and in the Sudan where he took part in the Battle of Omdurman (1898).
Following the 1910 General Election Winston Churchill became Home Secretary. Churchill introduced several reforms to the prison system, including the provision of lecturers and concerts for prisoners and the setting up of special after-care associations to help convicts after they had served their sentence. However, Churchill was severely criticized for using troops to maintain order during a Welsh miner's strike.
On 16 December 1910, a gang attempted to break into the rear of a jeweller's shop in Houndsditch. An adjacent shopkeeper heard their hammering, and informed the police. When the police arrived, the robbers burst out, shooting three officers dead. The gang leader, a Latvian, Poloski Morountzeff, was accidently shot in the back by another gang member, and died later.
Winston Churchill immediately announced that the police was looking for a gang of Jewish anarchists. It was also important to the government that the incident did not cause anti-Jewish feeling and the coroner made a point of stressing "in justice and fairness to the Jewish community" that he was uncircumcised.
Acting on a tip-off, police surrounded 100 Sidney Street in Stepney on 2nd January 1911. Churchill hurried to the scene in order to direct operations. He was greeted by cries of "who let them immigrants in?" Churchill authorised the deployment of 124 soldiers.
Winston Churchill at the Siege of Sidney Street
The Manchester Guardian reported: "The firing came in spurts. The murderers would shoot first from the ground floor, then the window above … then there would be a barking of rifles in reply. Close on one o'clock an especially sharp fusillade rattled like a growl of exasperation …. a little feather of smoke curling out of the window below the point of attack. We thought at first it was gun smoke and then with a thrill we saw that the house was on fire."
Churchill refused to allow the fire brigade to douse the flames until the firing from inside stopped. When it did and the police were allowed in, only two bodies were found. One writer, Stephen Bates, has argued: "The lesson the police took from the siege was not that they had overreacted but that they needed better weapons. The lesson the press took was that the Liberal government was soft on immigrants."
The two dead men, Fritz Svaars and William Sokolow, were petty criminals, and not anarchists. However, the government leaked the story that the gang had been led by Peter Piatkow (Peter the Painter) who had managed to escape from the burning building. However, there are doubts that Piatkow ever existed.
Air-Brushed Hollywood Bullshit
We were taught in our conservative sanitized high school history classes that Winston Churchill was a great man and statesman of impeccable ethical standards and character. Like so much other patriotic gibberish and ethnocentric historical nonsense that was crammed into our credulous heads - and so much else that was conveniently left out - this portrayal of Churchill was bovine excrement, patently false. How many conservative documentaries have we seen over the years extolling the virtues of the fat cigar smoking whiskey swilling war loving bastard?
This week Great Britain (what's "great" about it any inquiring mind ought to ask?) is commemorating the fiftieth anniversary of the death of the war mongering racist monarchist Winston Churchill. Millions of people worldwide watched his state funeral on television in 1965, and thousands of people lined the streets of London to pay their last respects as his cortege slowly passed. But I somehow doubt that President Obama will be adding his own warm words of remembrance for the iconic British wartime leader.
The Pompous Fat Bastard with Canine Friend
Fanatical Anti-Communist and Labour Basher
Winston Churchill now took the controversial decision to use the stockpiles of M Device (diphenylaminechloroarsine) against the Red Army who were involved in fighting against invading forces hostile to the Russian Revolution. He was supported in this by Sir Keith Price, the head of the chemical warfare, at Porton Down. He declared it to be the "right medicine for the Bolshevist" and the terrain would enable it to "drift along very nicely". Price agreed with Churchill that the use of chemical weapons would lead to a rapid collapse of the Bolshevik government in Russia: "I believe if you got home only once with the Gas you would find no more Bolshies this side of Vologda."
In the greatest secrecy, 50,000 M Devices were shipped to Archangel, along with the weaponry required to fire them. Winston Churchill sent a message to Major-General William Ironside: "Fullest use is now to be made of gas shell with your forces, or supplied by us to White Russian forces." He told Ironside that this "thermogenerator of arsenical dust that would penetrate all known types of protective mask". Churchill added that he would very much like the "Bolsheviks" to have it. Churchill also arranged for 10,000 respirators for the British troops and twenty-five specialist gas officers to use the equipment.
Someone leaked this information and Winston Churchill was forced to answer questions on the subject in the House of Commons on 29th May 1919. Churchill insisted that it was the Red Army who was using chemical warfare: "I do not understand why, if they use poison gas, they should object to having it used against them. It is a very right and proper thing to employ poison gas against them." His statement was false. There is no evidence of Bolshevik forces using gas against British troops and it was Churchill himself who had authorised its initial use some six weeks earlier.
On 27th August, 1919, British Airco DH.9 bombers dropped these gas bombs on the Russian village of Emtsa. According to one source: "Bolsheviks soldiers fled as the green gas spread. Those who could not escape, vomited blood before losing consciousness." Other villages targeted included Chunova, Vikhtova, Pocha, Chorga, Tavoigor and Zapolki. During this period 506 gas bombs were dropped on the Russians.
Lieutenant Donald Grantham interviewed Bolshevik prisoners about these attacks. One man named Boctroff said the soldiers "did not know what the cloud was and ran into it and some were overpowered in the cloud and died there; the others staggered about for a short time and then fell down and died". Boctroff claimed that twenty-five of his comrades had been killed during the attack. Boctroff was able to avoid the main "gas cloud" but he was very ill for 24 hours and suffered from "giddiness in head, running from ears, bled from nose and cough with blood, eyes watered and difficulty in breathing."
Major-General William Ironside told David Lloyd George that he was convinced that even after these gas attacks his troops would not be able to advance very far. He also warned that the Tsarist White Army had experienced a series of mutinies (there were some in the British forces too). Lloyd George agreed that Ironside should withdraw his troops. This was completed by October. The remaining chemical weapons were considered to be too dangerous to be sent back to Britain and therefore it was decided to dump them into the White Sea.
Winnie the War Lover: Rule Britannia - Kill, Kill, Kill!
Winston Churchill created great controversy over his policies in Iraq. It was estimated that around 25,000 British and 80,000 Indian troops would be needed to control the country. However, he argued that if Britain relied on air power, you could cut these numbers to 4,000 (British) and 10,000 (Indian). The government was convinced by this argument and it was decided to send the recently formed Royal Air Force to Iraq.
An uprising of more than 100,000 armed tribesmen took place in 1920. Over the next few months the RAF dropped 97 tons of bombs killing 9,000 Iraqis. This failed to end the resistance and Arab and Kurdish uprisings continued to pose a threat to British rule. Winston Churchill suggested that the RAF should use chemical weapons on the rebels. Some members of the Cabinet objected to these tactics: Churchill argued: "I do not understand this squeamishness about the use of gas... I am strongly in favour of using poisoned gases against uncivilised tribes. The moral effect should be so good that the loss of life should be reduced to a minimum... Gases can be used which cause great inconvenience and would leave a lively terror and yet would leave no serious permanent affect on most of those affected."
After all, his own paternal grandfather, Hussein Onyango Obama, was one of 150.000 rebellious Kikuyu "blackamoors" forced into detention camps during Churchill's postwar premiership, when the British government began its brutal campaign to suppress the alleged "Mau Mau" uprising in Kenya, in order to protect the privileges of the white settler population at the expense of the indigenous people. About 11,000 Kenyans were killed and 81,000 detained during the British government's campaign to protect its imperialist heritage.
Suspected Mau Mau insurgents were subject to electric shock, whippings, burning and mutilation in order to crush the local drive for independence. Obama's grandfather was imprisoned without trial for two years and tortured for resisting Churchill's empire. He never truly recovered from the ordeal.
Africa was quite a playground for young Winston. Born into the pampered silver spoon privileged British elite in 1847, educated at Harrow and Sandhurst, brought up believing the simple story that the superior white man was conquering the primitive, dark-skinned natives, and bringing them the benefits of civilisation, he set off as soon as he could to take his part in "a lot of jolly little wars against barbarous peoples," whose violence was explained by a "strong aboriginal propensity to kill".
In Sudan, he bragged that he personally shot at least three "savages".
In South Africa, where "it was great fun galloping about," he defended British built concentration camps for white Boers, saying they produced "the minimum of suffering". The death toll was almost 28,000.
When at least 115,000 black Africans were likewise swept into British camps, where 14,000 died, he wrote only of his "irritation that Kaffirs should be allowed to fire on white men".
(On his attitude to other races, Churchill's doctor, Lord Moran, once said: "Winston thinks only of the colour of their skin."
Churchill found himself in other British dominions besides Africa. As a young officer in the Swat valley, now part of Pakistan, Churchill one day experienced a fleeting revelation. The local population, he wrote in a letter, was fighting back because of "the presence of British troops in lands the local people considered their own," – just as Britain would if she were invaded.
This idle thought was soon dismissed however , and he gladly took part in raids that laid waste to whole valleys, destroying houses and burning crops, believing the "natives" to be helpless children who will "willingly, naturally, gratefully include themselves within the golden circle of an ancient crown".
But rebels had to be crushed with extreme force. As Colonial Secretary in the 1920s, Churchill unleashed the notorious Black and Tan thugs on Ireland's Catholic civilians, making a hypocritical mockery of his comment:
"Indeed it is evident that Christianity, however degraded and distorted by cruelty and intolerance, must always exert a modifying influence on men's passions, and protect them from the more violent forms of fanatical fever, as we are protected from smallpox by vaccination."
His fear-mongering views on Islam sound strangely familiar:
"But the Mahommedan religion increases, instead of lessening, the fury of intolerance. It was originally propagated by the sword, and ever since, its votaries have been subject, above the people of all other creeds, to this form of madness."
"On the subject of India," said the British Secretary of State to India in the 1920's: "Winston is not quite sane… I didn't see much difference between his outlook and Hitler's."
When Mahatma Gandhi launched his campaign of peaceful resistance against British rule in India, Churchill raged that Gandhi:
"ought to be lain bound hand and foot at the gates of Delhi, and then trampled on by an enormous elephant with the new Viceroy seated on its back. Gandhi-ism and everything it stands for will have to be grappled with and crushed."
In 1931 he sneered: "It is alarming and also nauseating to see Mr. Gandhi, a seditious Middle Temple lawyer of the type well-known in the East, now posing as a fakir, striding half naked up the steps of the Viceregal palace to parley on equal terms with the representative of the King-Emperor."
As Gandhi's support increased, Churchill announced:
"I hate Indians. They are a beastly people with a beastly religion."
In 1943 a famine broke out in Bengal, caused by the imperial policies of the British. In reply to the Secretary of State for India's telegram requesting food stock to relieve the famine, Churchill wittily replied:
"If food is scarce, why isn't Gandhi dead yet?"
Up to 3 million people starved to death. Asked in 1944 to explain his refusal to send food aid, Churchill jeered:
"Relief would do no good. Indians breed like rabbits and will outstrip any available food supply."
Just after World War I, approximately one quarter of the world's land and population fell within the spheres of British influence. The Empire had increased in size with the addition of territories taken from its vanquished enemies.
As British Colonial Secretary, Churchill's power in the Middle East was immense. He "created Jordan with a stroke of a pen one Sunday afternoon", allegedly drawing the expansive boundary map after a generous lunch. The huge zigzag in Jordan's eastern border with Saudi Arabia has been called "Winston's Hiccup" or "Churchill's Sneeze".
He is the man who invented Iraq, another arbitrary patch of desert, which was awarded to a throneless Hashemite prince; Faisal, whose brother Abdullah was given control of Jordan. Sons of King Hussein, Faisal and Abdullah had been war buddies of Churchill's pal, the famous "T.E. Lawrence of Arabia".
But the lines drawn in the sand by British imperialism, locking together conflicting peoples behind arbitrary borders were far from stable. Large numbers of Jordanians, Iraqis, Kurds and Palestinians were denied anything resembling real democracy.
Churchill was one of the early enthusiasts for the use of mustard gas against the Germans in the First World War. Fully aware of the horrific effects and ghastly deaths it caused in the Great War, in 1920 Churchill advocated the use of chemical weapons on the "uncooperative Arabs" involved in the Iraqi revolution against British rule. Had Germany continued to fight beyond November 1918, he predicted more sophisticated poisonous gases of "incredible malignity" would have ended all resistance. "Thousands of airplanes would have shattered their cities", an eerie forecast of what was to come in the next Great War.
"I do not understand the squeamishness about the use of gas," he declared. "I am strongly in favour of using poison gas against uncivilized tribes. It would spread a lively terror."
"Death stands at attention", he wrote, "obedient, expectant, ready to serve, ready to shear away the peoples en masse; ready, if called upon, to pulverize, without hope of repair what is left of civilization. He awaits only the word of command."
As Colonial Secretary, it was Churchill who offered the Jews their free ticket to the 'Promised Land' of 'Israel', although he thought they should not "take it for granted that the local population will be cleared out to suit their convenience." He dismissed the Palestinians already living in the country as "barbaric hoards who ate little but camel dung."
Addressing the Peel Commission (1937) on why Britain was justified in deciding the fate of Palestine, Churchill clearly displayed his white supremacist ideology to justify one of the most brutal genocides and mass displacements of people in history, based on his belief that "the Aryan stock is bound to triumph":
"I do not agree that the dog in a manger has the final right to the manger even though he may have lain there for a very long time. I do not admit that right. I do not admit for instance, that a great wrong has been done to the Red Indians of America or the black people of Australia. I do not admit that a wrong has been done to these people by the fact that a stronger race, a higher-grade race, a more worldly wise race to put it that way, has come in and taken their place."
Anti-Working Class Fascist?
In fact, many of the views Churchill held, not only extreme right wing labour bashing conservatism, but were blatantly fascist - which is an ideology not too far to the right from his conservative views. Apart from his support of monarchies and other authoritarian hierarchical forms of rule, he espoused racism and genetic engineering. As Home Minister he had advocated euthanasia and sterilisation of the mentally and physically handicapped.
In May 1945, Churchill made a radio broadcast where he attacked the Labour Party: "I must tell you that a socialist policy is abhorrent to British ideas on freedom. There is to be one State, to which all are to be obedient in every act of their lives. This State, once in power, will prescribe for everyone: where they are to work, what they are to work at, where they may go and what they may say, what views they are to hold, where their wives are to queue up for the State ration, and what education their children are to receive. A socialist state could not afford to suffer opposition - no socialist system can be established without a political police. They (the Labour government) would have to fall back on some form of Gestapo."
Clement Attlee's response the following day caused Churchill serious damage: "The Prime Minister made much play last night with the rights of the individual and the dangers of people being ordered about by officials. I entirely agree that people should have the greatest freedom compatible with the freedom of others. There was a time when employers were free to work little children for sixteen hours a day. I remember when employers were free to employ sweated women workers on finishing trousers at a penny halfpenny a pair. There was a time when people were free to neglect sanitation so that thousands died of preventable diseases. For years every attempt to remedy these crying evils was blocked by the same plea of freedom for the individual. It was in fact freedom for the rich and slavery for the poor. Make no mistake; it has only been through the power of the State, given to it by Parliament, that the general public has been protected against the greed of ruthless profit-makers and property owners. The Conservative Party remains as always a class Party. In twenty-three years in the House of Commons, I cannot recall more than half a dozen from the ranks of the wage earners. It represents today, as in the past, the forces of property and privilege. The Labour Party is, in fact, the one Party which most nearly reflects in its representation and composition all the main streams which flow into the great river of our national life."
In the 1945 General Election Churchill's attempts to compare a future Labour government with Nazi Germany backfired and Attlee won a landslide victory.
But like most Conservatives when their historical entitlements were even mildly threatened by the political left, Churchill never had a problem with fascism.
In 1927, after a visit to Rome, he applauded the budding fascist dictator, Mussolini:
"What a man! I have lost my heart!… Fascism has rendered a service to the entire world… If I were Italian, I am sure I would have been with you entirely from the beginning of your victorious struggle against the bestial appetites and passion of Leninism."
("The Bestial Appetites and Passions of Leninism", eh? Where can I get a copy?)
In the 1930s Churchill had written an article on Hitler. In it he wrote glowing adulations of Hitler. "Those who have met Herr Hitler face to face in public business or on social terms," he said, "have found a highly competent, cool, well-informed functionary with an agreeable manner, a disarming smile, and few have been unaffected by a subtle personal magnetism." Despite the arming of Germany and the persecution of the Jews, "we may yet live to see Hitler a gentler figure in a happier age," Churchill wrote. He was, in his saner moments, doubtful.
The caustic anti-Semite Churchill also included a short rant on the internationalist Jewish Marxist intellectual and leader and cohort of Lenin in the Russian Civil War (1918-1922). Leon Trotsky, by this time exiled by Stalin like so many other original Bolsheviks of the Revolution who he had not had not executed or locked in one of the gulags, were on the run for years from Stalin's secret police. Trotsky was a "usurper and tyrant", Churchill claimed. He was a "cancer bacillus" and a "skin of malice," washed up on the shores of Mexico. Trotsky possessed, said Churchill, "the organizing command of a Carnot, the cold detached intelligence of a Machiavelli, the mob oratory of a Cleon, the ferocity of Jack the Ripper, the toughness of Titus Oates."
But years later, in his written account of the Second World War (Vol. 111), fickle-hearted Winston applauded the downfall of his erstwhile hero:
"Hitler's fate was sealed. Mussolini's fate was sealed. As for the Japanese, they would be ground to powder."
Britain's American allies saw to that in Hiroshima and Nagasaki when they dropped their atomic bombs and killed hundreds of thousands of Japanese citizens.
Meanwhile, Prime Minister Churchill had ordered the saturation bombing of Dresden, where, on February 13 1945, more than 500,000 German civilians and refugees, mostly women and children, were slaughtered in one day by the British Royal Air Force (RAF) and the United States Army Air Force (USAAF), who dropped over 700,000 phosphorus bombs on the city.
Prime Minister Churchill had said earlier:
"I do not want suggestions as to how we can disable the economy and the machinery of war, what I want are suggestions as to how we can roast the German refugees on their escape from Breslau."
In Dresden he got his wish. Those who perished in the centre of the city could not be traced, as the temperature in the area reached 1600 degree Centigrade. Dresden's citizens barely had time to reach their shelters and many who sought refuge underground suffocated as oxygen was pulled from the air to feed the flames. Others perished in a blast of white heat strong enough to melt human flesh.
Despite intense pressure from Stalin to open a second-front by landing Allied troops in France in 1943, Churchill continued to argue that this should not happen until the defeat of Nazi Germany was guaranteed. The D-Day landings did not take place until June, 1944 and this delay enabled the Red Army to capture territory from Germany in Eastern Europe.
In March 1944 Churchill ordered 500,000 anthrax bombs from the United States. These bombs were to be dropped "well behind the lines, to render towns uninhabitable and indeed dangerous to enter without a respirator". Churchill was now told by military intelligence that the British had far larger stocks of poison gas than Nazi Germany. He wrote to General Hastings Ismay, his Chief of Staff, on 6th July, 1944: "It is absurd to consider morality on this topic when everybody used it in the last war without a nod of complaint from the moralists of the Church... It is simply a question of fashion changing as she does between long and short skirts for women... One really must not be bound by silly conventions of the mind."
Churchill now sent a message to his chiefs of staff: "I may certainly have to ask you to support me in using poison gas. We could drench the cities of the Ruhr and many other cities in Germany in such a way that most of the population would be requiring constant medical attention... If we do it, let us do it one hundred per cent. In the meantime, I want the matter studied in cold blood by sensible people and not by that particular set of psalm-singing uniformed defeatists which one runs across now here now there."
On 28th July 1944, the chiefs of staff reported to Churchill that gas warfare was possible and that Britain could drop more than Germany but they doubted whether it would cause many difficulties to the German authorities in controlling the country. However, they were deeply concerned by the possibility that Germany would retaliate as they feared the British public would react in a different way to those in Germany: "the same cannot be said for our own people, who are in no such inarticulate condition". After reading the chiefs of staff assessment Churchill concluded gloomily, "I am not at all convinced by this negative report. But clearly I cannot make head against the parsons and the warriors at the same time."
Instead of being charged with being responsible for ordering one of the most horrific war crimes of recent history, in which up to half a million people died screaming in his firestorms, Churchill emerged from the war as a hero. An unwavering supporter of the British monarchy throughout his life, he was made a knight of the Order of the Garter, Britain's highest order of knighthoods, by Queen Elizabeth II in 1953.
"The monarchy is so extraordinarily useful. When Britain wins a battle she shouts, "God save the Queen"; when she loses, she votes down the prime minister," he once said.
Shortly after the Second World War was won, however, Churchill's Conservative government was voted down by a Britain tired of battle, austerity, and hungry for change.
"History will be kind to me for I intend to write it," said Churchill, and to a certain extent he succeeded. When during resistance and civil disobedience regarding conscription in World War I and hundreds were massacred, it was Churchill who supported the government repression. During the Second World War "Winnie" became Britain's great national icon, with his trade-mark cigar and V-sign, remembered for leading Britain through her finest hour (we won't mention his eccentric habit of pacing about the office in the nude while dictating to secretaries!) The fat cigar clamped in his mouth a symbol of cocky British defiance, Churchill was genial courageous Big Brother figure, revered by the media. His stirring wartime speech:
"We shall fight them on the beaches! We shall never surrender!" makes no mention of "We shall bomb them in their cities! We shall make them suffer!"
Churchill's brutality and brutishness have been ignored, but he never reckoned on the invention of the internet, or its power to allow authors to question his view of history and expose the cruelty and racism of the man.
When George W Bush moved out of the White House he left a bust of Winston Churchill in the Oval office. He'd used it to inspire him on his 'war against terrorism'. Barack Obama had it removed. I wonder if he found the bust offensive? Was it out of respect for the pain and distress his Kenyan grandfather, Hussein Onyango Obama, suffered on Churchill's orders ?
Removing a bust is a fairly simple matter, but toppling a statue is quite another. In Westminster Square in front of Parliament in London there are several statues of deceased politicians and dignitaries, one of which I find particularly distasteful. Hands clasped behind back, the jodphur-clad figure striding purposely forward is that of Jan Christian Smuts. racist forefather of the Apartheid system in South Africa.
As for Churchill, who, as Home Secretary, said:
'I propose that 100,000 degenerate Britons should be forcibly sterilized and others put in labour camps to halt the decline of the British race.'
His hulking toadyish statue stands tall on a granite plinth, clutching a walking stick, his unblinking bulldog gaze on the Houses of Parliament where he reigned twice as a Conservative Prime Minister.
If I were Prime Minister of Great Britain, one of the first things on my list would be the removal of memorials to fascist-minded racist imperialists. The statues of Smuts and Churchill in Parliament Square would be the first to come down.
Addendum:
A not uncommon accusation is that Churchill was an anti-Semite and a Fascist. Below are some of the quotes that are sometimes given in support of that claim. The first is from the Illustrated Sunday Herald - 8th February 1920:
"The part played in the creation of Bolshevism and in the actual bringing about of the Russian Revolution by these international and for the most part atheistic Jews ... is certainly a very great one; it probably outweighs all others. With the notable exception of Lenin, the majority of the leading figures are Jews. Moreover, the principal inspiration and driving power comes from Jewish leaders ... The same evil prominence was obtained by Jews in (Hungary and Germany, especially Bavaria).
Although in all these countries there are many non-Jews every whit as bad as the worst of the Jewish revolutionaries, the part played by the latter in proportion to their numbers in the population is astonishing. The fact that in many cases Jewish interests and Jewish places of worship are excepted by the Bolsheviks from their universal hostility has tended more and more to associate the Jewish race in Russia with the villainies which are now being perpetrated".
The most important thing to note about this quote is its date. Like some prominent neo-conservatives today such as Irving Kristol, Churchill moved from left liberal to extreme right wing conservatism (a short about face to the right and you will find fascism - the rise of every fascist regime in the 20th century required support from conservatives, including the churches) during his lifetime and the above quote was uttered while he was a member of a LIBERAL government led by Lloyd George. And below is part of what Lloyd George said about Hitler at a much later date (Daily Express, 17.9.1936):
"I have now seen the famous German leader and also something of the great change he has effected. "Whatever one may think of his methods - and they are certainly not those of a parliamentary country, there can be no doubt that he has achieved a marvellous transformation in the spirit of the people, in their attitude towards each other, and in their social and economic outlook…
It is not the Germany of the first decade that followed the war - broken, dejected and bowed down with a sense of apprehension and impotence. It is now full of hope and confidence, and of a renewed sense of determination to lead its own life without interference from any influence outside its own frontiers.
There is for the first time since the war a general sense of security. The people are more cheerful. There is a greater sense of general gaiety of spirit throughout the land. It is a happier Germany. I saw it everywhere, and Englishmen I met during my trip and who knew Germany well were very impressed with the change.
One man has accomplished this miracle. He is a born leader of men, a magnetic and dynamic personality with a single-minded purpose, as resolute will and a dauntless heart."
An admiration that Churchill echoed:
"While all those formidable transformations were occurring in Europe, Corporal Hitler was fighting his long, wearing battle for the German heart. The story of that struggle cannot be read without admiration for the courage, the perseverance, and the vital force which enabled him to challenge, defy, conciliate, or overcome, all the authorities or resistance's which barred his path. He, and the ever increasing legions who worked with him, certainly showed at this time, in their patriotic ardour and love of country, that there was nothing that they would not dare, no sacrifice of life, limb or liberty that they would not make themselves or inflict upon their opponents."
And speaking in Rome on 20 January, 1927, Churchill praised Mussolini:
"I could not help being charmed, like so many other people have been, by Signor Mussolini's gentle and simple bearing and by his calm, detached poise in spite of so many burdens and dangers. Secondly, anyone could see that he thought of nothing but the lasting good, as he understood it, of the Italian people, and that no lesser interest was of the slightest consequence to him. If I had been an Italian I am sure that I should have been whole-heartedly with you from the start to finish in your triumphant struggle against the bestial appetites and passions of Leninism. I will, however, say a word on an international aspect of fascism. Externally, your movement has rendered service to the whole world. The great fear which has always beset every democratic leader or a working class leader has been that of being undermined by someone more extreme than he. Italy has shown that there is a way of fighting the subversive forces which can rally the masses of the people, properly led, to value and wish to defend the honour and stability of civilised society. She has provided the necessary antidote to the Russian poison. Hereafter no great nation will be un-provided with an ultimate means of protection against the cancerous growth of Bolshevism."
And I don't suppose I need to remind people that FDR also praised Mussolini—referring to him as "that admirable Italian gentleman" and adopting part of Mussolini's ideas for his "New Deal"
In summary, then, Churchill's comments about the Jews (and Jews WERE prominent among the Bolsheviks) belong to his most Leftist period and his admiration of the achievements of Hitler and Mussolini were widely shared in the interwar period and were very much what one would have expected of ANY centrist politician (Left or Right) at the time.
The Crimes of Winston Churchill
Churchill was a racist, monarchist, silver spoon ultra-conservative elitist blowhard and cigar smoking whiskey swilling bastard and genocidal maniac. He is celebrated in our whitewashed history books and fawned over in Britain, held up as a hero of the nation - voted 'Greatest Briton' of all time in polls. Below is the real history of Churchill.
The history of a white supremacist whose hatred for working classes throughout the world, a dedicated colonialist that led to four million people in India starving to death. This bastard loathed Irish people so much he conceived of novel ways to terrorize and abuse them. Churchill was a racist thug who waged war on black people and other people of color throughout the brutal British Empire across and in Britain itself. This is the trial of Winston Churchill, the enemy of all humanity.
Afghanistan:
Churchill found his love for war during the time he spent in Afghanistan. While he was in Afghanistan he said "all who resist will be killed without quarter" because the Pashtuns need "recognize the superiority of race". He believed the Pashtuns needed to be dealt with, he would reminisce in his writings about how he partook in the burning of villages and people's homes.
"We proceeded systematically, village by village, and we destroyed the houses, filled up the wells, blew down the towers, cut down the great shady trees, burned the crops and broke the reservoirs in punitive devastation." — Churchill on how the British carried on in Afghanistan, and he was only too happy to be part of it.
Churchill would also write of how "every tribesman caught was speared or cut down at once". Proud of the terror he helped inflict on the people of Afghanistan Churchill was well on the road to becoming a genocidal maniac.
Cuba:
Churchill wrote that he was concerned Cuba would turn in to "another black republic" in 1896. By "another" he was referring to Haiti which was the first nation in modern times to abolish slavery. Haiti has been punished for doing so ever since.
Egypt:
"Tell them that if we have any more of their cheek we will set the Jews on them and drive them into the gutter, from which they should never have emerged" — Winston Churchill on how to deal with Egypt in 1951.
Greece:
The British Army under the guidance of Churchill perpetrated a massacre on the streets of Athens in the month of December 1944. 28 protesters were shot dead, a further 128 injured. Who were they? Were they supporters of Nazism? No, they were in fact anti-Nazis.
The British demanded that all guerrilla groups should disarm on the 2nd December 1944. The following day 200,000 people took to the streets, and this is when the British Army on Churchill's orders turned their guns on the people. Churchill regarded ELAS (Greek People's Liberation Army) and EAM (National Liberation Front) as "miserable banditti" (these were the very people who ran the Nazis out). His actions in the month of December were purely out of his hatred and paranoia for communism.
The British backed the right-wing government in Greece returned from exile after the very same partisans of the resistance that Churchill ordered the murder of had driven out the Nazi occupiers. Soviet forces were well received in Greece. This deeply worried Churchill. He planned to restore the monarchy in Greece to combat any possible communist influence. The events in December were part of that strategy.
In 1945, Churchill sent Charles Wickham to Athens where he was put in charge of training the Greek security police. Wickham learned his tricks of the trade in British occupied Ireland between 1922 and1945 where he was a commander of the colonial RUC which was responsible for countless terror.
In April 1945 Churchill said "the [Nazi] collaborators in Greece in many cases did the best they could to shelter the Greek population from German oppression" and went on to say "the Communists are the main foe".
Guyana:
Churchill ordered the overthrowing of the democratically elected leader of 'British Guiana'. He dispatched troops and warships and suspended their constitution all to put a stop to the government's nationalization plan.
India:
"I'd rather see them have a good civil war" — Churchill wishing partition on India
Very few in Britain know about the genocide in Bengal let alone how Churchill engineered it. Churchill's hatred for Indians led to four million starving to death during the Bengal 'famine' of 1943. "I hate Indians. They are a beastly people with a beastly religion" he would say.
Bengal had a better than normal harvest during the British enforced famine. The British Army took millions of tons of rice from starving people to ship to the Middle East — where it wasn't even needed. When the starving people of Bengal asked for food, Churchill said the 'famine' was their own fault "for breeding like rabbits". The Viceroy of India said "Churchill's attitude towards India and the famine is negligent, hostile and contemptuous". Even the right wing imperialist Leo Amery who was the British Secretary of State in India said he "didn't see much difference between his [Churchill] outlook and Hitler's". Churchill refused all of the offers to send aid to Bengal, Canada offered 10,000 tons of rice, the U.S 100,000. Churchill was still swilling champagne while he caused four million men, women and children to starve to death in Bengal.
Throughout WW2 India was forced to 'lend' Britain money. Churchill moaned about "Indian money lenders" the whole time.
The truth is Churchill never waged war against fascism. He went to war with Germany to defend the British Empire. He moaned "are we to incur hundreds of millions of debt for defending India only to be kicked out by the Indians afterwards".
In 1945 Churchill said "the Hindus were race protected by their mere pullulation from the doom that is due". The Bengal famine wasn't enough for Churchill's blood lust; he wished his favorite war criminal Arthur Harris could have bombed them.
When India was partitioned in 1947 millions of people died and millions more were displaced. Churchill said that the creation of Pakistan, which has been an imperialist outpost for the British and Americans since its inception, was Britain's "bit of India".
Iran:
"A prize from fairyland beyond our wildest dreams" — Churchill on Iran's oil
When Britain seized Iran's oil industry Churchill proclaimed it was "a prize from fairyland beyond our wildest dreams". He meddled in Iranian affairs for decades doing his utmost to exclude Iranians from their natural resources, encouraging the looting of the nation when most lived in severe poverty.
In June 1914 Churchill proposed a bill in the House of Commons that would see the British government become the major shareholder of the Anglo-Iranian Oil Company. The company would go on to refrain from paying Iran its share of the dividends before paying tax to the British exchequer. Essentially the British were illegally taxing the Iranian government.
When the nationalist government of Mohammad Mosaddegh threatened British 'interests' in Iran, Churchill was there, ready to protect them at any cost, even if that meant desecrating democracy. He helped organise a coup against Mosaddegh in August 1953. He told the CIA operations officer that helped carry out the plan "if i had been but a few years younger, I would have loved nothing better than to have served under your command in this great venture".
Churchill arranged for the BBC to send coded messages to let the Shah of Iran know that they were overthrowing the democratically elected government. Instead of the BBC ending their Persian language news broadcast with "it is now midnight in London" they under Churchill's orders said "it is now exactly midnight".
Churchill went on to privately describe the coup as "the finest operation since the end of the war [WW2]". Being a proud product of imperialism he had no issue ousting Mosaddegh so Britain could get back to sapping the riches of Iran.
Iraq:
"I am strongly in favor of using poisoned gas against the uncivilized tribes… it would spread a lively terror." — Churchill on the use of gas in the Middle East and India
Churchill was appointed 'Secretary of State for the Colonies' in 1921. He formed the 'Middle East Department' which was responsible for Iraq. Determined to have his beloved empire on the cheap he decided air power could replace ground troops. A strategy of bombing any resistance to British rule was now employed.
Several times in the 1920s various groups in the region now known as Iraq rose up against the British. The air force was then put into action, indiscriminately bombing civilian areas so to subdue the population.
Churchill was also an advocate for the use of mustard and poison gases. Whilst 'Secretary for War and Air' he advised that "the provision of some kind of asphyxiating bombs" should be used "for use in preliminary operations against turbulent tribes" in order to take control of Iraq.
When Iraqi tribes stood up for their rights, Churchill and the British military unleashed terror and death upon their mud, stone and reed villages.
Churchill's bombing of civilians in 'Mesopotamia' (Kurdistan and Iraq) was summed up by war criminal 'Bomber Harris':
"The Arab and Kurd now know what real bombing means within 45 minutes a full-sized village can be practically wiped out, and a third of its inhabitants killed or injured, by four or five machines which offer them no real target, no opportunity for glory as warriors, no effective means of escape". — Arthur 'Bomber' Harris.
Ireland:
"We have always found the Irish a bit odd. They refuse to be English" — Churchill
In 1904 Churchill said "I remain of the opinion that a separate parliament for Ireland would be dangerous and impractical". Churchill's ancestry is linked to loyalty to Britain. He is a direct descendent of the 'Marquis of Londonderry' who helped put down the 1798 United Irishmen rising. He would live up to his family's sordid reputation when it came to suppressing revolutionary forces in Ireland.
The Black and Tans were the brainchild of Churchill, as he sent his goons and murders to Ireland to terrorize at will. Attacking civilians and civilian property was a Churchill strategy, including rampaging across the country carrying out reprisals for any dissent. He went on to describe his goon squads and militaryas "gallant and honorable officers".
It was also Churchill who conceived the idea of forming the Auxiliaries who carried out the Croke Park massacre. They fired into the crowd at a Gaelic football match, killing 14. Of course this didn't fulfill Churchill's bloodlust to repress a people who he described as "odd" for their refusal "to be English".
He went on to advocate the use of air power in Ireland against Sinn Fein members in 1920. He suggested to his war advisers that airplanes should be dispatched with orders to use "machine-gun fire or bombs" to "scatter and stampede them".
Churchill was an early advocate for the partitioning of Ireland. During the treaty negotiations he insisted on retaining navy bases in Ireland. In 1938 those bases were handed back to Ireland. However in 1939 Churchill proposed capturing Berehaven base by force.
In 1941 Churchill supported a plan to introduce conscription in the North of Ireland.
Churchill went on to remark, "the bloody Irish, what have they ever done for our wars", reducing Ireland's merit to what it might provide by way of resources (people) for their imperialist land grabs.
Kenya:
Britain declared a state of emergency in Kenya in 1952 to protect its system of institutionalized racism that they established throughout their colonies so to exploit the indigenous population. Churchill being your archetypical British supremacist believed that Kenya's fertile highlands should be only for white colonial settlers. He approved the forcible removal of the local population, which he termed "blackamoors".
At least 150,000 men, women and children were forced into concentration camps. Children's schools were shut by the British who branded them "training grounds for rebellion". Rape, castration, cigarette burns, electric shocks and fire were all deployed by the brutal British to torture the Kenyan people on Churchill's watch.
In 1954 during a British cabinet meeting Churchill and his men discussed the forced labor of Kenyan POWs and how to circumvent the constraints of two treaties they were breaching:
"This course [detention without trial and forced labor] had been recommended despite the fact that it was thought to involve a technical breach of the Forced Labor Convention of 1930 and the Convention on Human Rights adopted by the Council of Europe"
The Cowan Plan advocated the use of force and sometimes death against Kenyan POWs who refused to work. Churchill schemed to allow this to continue.
Caroline Elkins book gives a glimpse into the extent that the crimes in Kenya were known in both official and unofficial circles in Britain and how Churchill brushed off the terror the colonial British forces inflicted on the native population. He even 'punished' Edwina Mountbatten for mentioning it, "Edwina Mountbatten was conversing about the emergency with India's prime minister, Jawaharlal Nehru, and the then colonial secretary, Oliver Lyttleton. When Lyttleton commented on the "terrible savagery" of Mau Mau… Churchill retaliated, refusing to allow Lord Mountbatten to take his wife with him on an official visit to Turkey".
Palestine:
"I do not agree that the dog in a manger has the final right to the manger."
In 2012 Churchill was honored with a statue in Jerusalem for his assistance to Zionism.
He regarded the Arab population Palestine to be a "lower manifestation". And that the "dog in a manger has the final right to the manger", by this he meant the Arabs of Palestine.
In 1920 Churchill declared "if, as may well happen, there should be created in our own lifetime by the banks of the Jordan a Jewish State under the protection of the British Crown which might comprise three or four millions of Jews, an event will have occurred in the history of the world which would from every point of view be beneficial".
A year later in Jerusalem he told Palestinian leaders that "it is manifestly right that the Jews, who are scattered all over the world, should have a national centre and a National Home where some of them may be reunited. And where else could that be but in this land of Palestine, with which for more than 3,000 years they have been intimately and profoundly associated?".
At the Palestine Royal Commission (Peel) of 1937, Churchill stated that he believed in intention of the Balfour Declaration was to make Palestine an "overwhelmingly Jewish state".
He went on to also express to the Peel Commission that he does "not admit for instance, that a great wrong has been done to the Red Indians of America or the black people of Australia. I do not admit that a wrong has been done to these people by the fact that a stronger race, a higher-grade and wiser race to put it that way, has come in and taken their place".
Four years later he wrote of his desire for a 'Jewish State' to be established after the second war world. The establishment of the colonial settler state however was carried out by the British Labor Party under Attlee, who sadly were always there to back their Tory counterparts when it came to British foreign policy.
Russia:
Churchill's hatred and paranoia about communism saw him suggest that an atomic bomb should be dropped on the Kremlin. He believed this would "handle the balance of power".
Saudi Arabia:
"My admiration for him [Ibn Saud] was deep, because of his unfailing loyalty to us." — Churchill
Prior to 1922 the British were paying Ibn Saud a subsidy of £60,000 a year. Churchill, then Colonial Secretary, raised it to £100,000.
Churchill knew full well of the dangers of Wahhabism. He gave a speech to the House of Commons in 1921 where he stated that Ibn Saud's followers "hold it as an article of duty, as well as of faith, to kill all who do not share their opinions and to make slaves of their wives and children. Women have been put to death in Wahhabi villages for simply appearing in the streets… [they are] austere, intolerant, well-armed and bloodthirsty". He was however content to use the House of Saud's twisted ideology for the benefit of British imperialism.
Churchill went on to write that his "admiration for him [Ibn Saud] was deep, because of his unfailing loyalty to us". He showered Ibn Saud with money and presents — gifting Ibn Saud a special Rolls-Royce in the mid 1940s.
South Africa:
Thousands were sent to British run concentration camps during the Boer wars. Churchill summed up his time in South Africa by saying "it was great fun galloping about".
Churchill wrote that his only "irritation" during the Boer war was "that Kaffirs should be allowed to fire on white men".
It was Churchill who planted the seed to strip voting rights from black people in South Africa. In June 1906, Churchill argued that Afrikaners should be allowed a self-rule which would mean black people would be excluded from voting.
He went on to state to Parliament that "we must be bound by the interpretation which the other party places on it and it is undoubted that the Boers would regard it as a breach of that treaty if the franchise were in the first instance extended to any persons who are not white".
In conclusion:
There have been a number of attempts to rehabilitate the image of the British Empire in Britain in recent years, particularly via the medium of cinema. The film Darkest Hour didn't show you anything about Churchill's crimes. On the contrary it presented him as a hero. Gary Oldham won an Oscar for his portrayal of one of the most evil, imperialists ever.
British Nationalist groups in Britain hold Churchill up as their poster boy. And so they should. He was a racist to the core. In response to migration from the Caribbean to Britain he said England should "be kept white". Throughout world war two his cabinet obsessed over British people viewing American Black GI's favorably. They were concerned that they would fraternized with white English women. A true believer in white supremacy, Churchill blamed the Native American and Aboriginal Australian people for their genocides. He said he did "not admit that a great wrong has been done to the red Indians and the black people of Australia."
Winner of the Noble Prize in Literature, Churchill actually plagiarized his most well known speech from an Irish Republican called Robert Emmet who was hanged and then beheaded by the British in 1803. Winston's famous "we shall fight them on beaches" line was lifted from Emmet's speech from the dock.
When it came to his own fellow Brits he was less than complimentary and displayed a deep hatred for the working classes. He suggested "100,000 degenerate Britons should be forcibly sterilized". And that for "tramps and wastrels there ought to be proper labor colonies where they could be sent".
It needs to be put once and for all that Churchill was despicable, racist, war criminal. Some will argue his "sins" are expiated for his actions during the Second World War. It is nothing but nonsense to suggest Churchill went out to fight fascism. He lauded Mussolini as a "roman genius", donated to Nazi war criminal Erich Von Manstien's criminal defence and sought to desperately cling on to the British Empire from which Hitler himself took inspiration for his Reich. What we have to remember is Churchill was not a uniquely villianous British Prime Minister. He was not out of ordinary but in fact a true representation of Britain.
When Winston Churchill Wanted to Start World War III before World War II was Even Over
By RS Ahthion, October 6, 2018
Regressive authoritarian Conservatives like Winston Churchill have invariably supported monarchies, fascism or any other form of far right wing tyranny whenever they feel threatened from below by dissent and movements toward real social and economic democracy.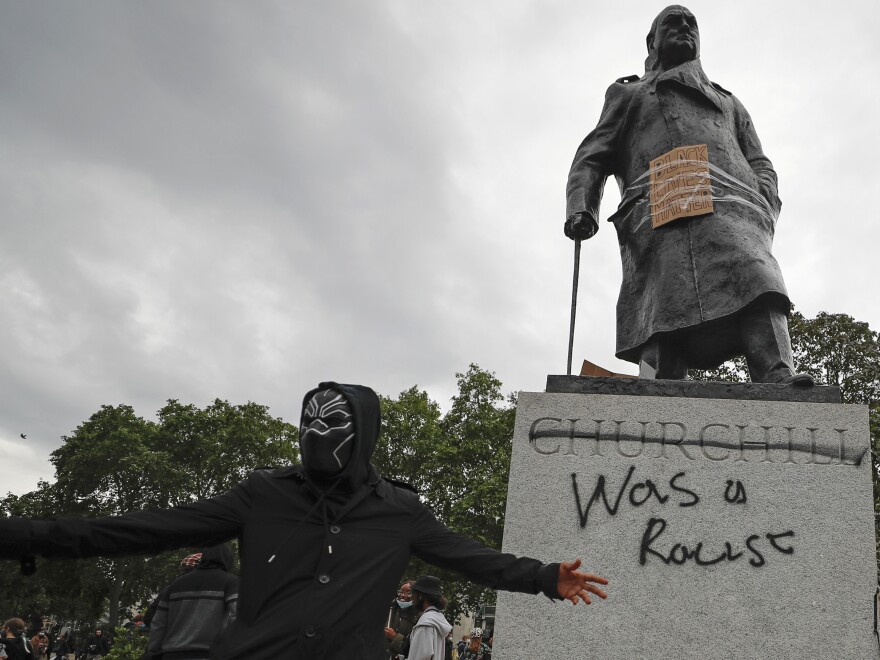 Statue of the rotten bastard that should have been toppled decades ago
As the great industrial slaughter of human beings that was World War II came to an end and Germany was being divided the British government was drawing up plans to re-arm the Nazi's and along with the Americans, plan a surprise attack against the Soviet Union.
The target date for this incredible insanity was July 1, 1945, less than 2 months after the end of World War II.
In Greece, Britain put into practise a taste of what Churchill wanted to happen to the Soviet Union - by massacring communist, socialist and other anti-fascist partisans who throughout the war had fought the Nazi occupation of Greece. The ultimate objective of Churchill and his American cohorts was to annihilate the socialists, communists and trade unions and ultimately re-instate the Greek monarchy and bolster the collaborating Nazi regime in Greece. A similar strategy was employed in Italy where the Communists and other leftist movements were strong and popular with the people. This was, one important sense, the objective of the Marshall Plan.
The British and American ruling class were very reluctant to purge West Germany of the Nazi presence. From 1949 to 1973, 90 of the 170 leading judges and lawyers in the West German Justice Ministry were former members of the Nazi Party. (1)
Of these Nazis, 34were former members of the Sturmabteilung (SA), the SA being the paramilitary group who assisted Hitler in his rise and took part in Kristallnacht, the violent night that killed 91 Jews.(2)
At the close of the war Britain was vastly weaker and from here onward would fall lock-step into the shadow of the United States as Churchill remarked at Yalta in homely terms of being between the Big Russian bear and the American Buffalo was the "British donkey". (3)
The reasons so little effort went into de-Nazifying West Germany was ultimately because big business, the rich and other factions of the ruling classes held a common class interest with the Third Reich. Not only were prominent Nazi's funnelled via rat lines to the United States under Operation Paperclip that had participated in some of the most horrific forms of violence but ideologically liberalism preferred white supremacy and fascism to communism. (I recommend reading the books The Nazis Next Door: How America Became a Safe Haven for Hitler's Men by Eric Lichtblau and America's Nazi Secret: An Insider's History by John Loftus)
As Harry Rositzke, a former head of CIA secret operations put it, "It was a visceral business of using any bastard as long as he was anti-Communist." (4)
Conservatives and many self-described Liberals always courted fascism when capitalism as it did frequently, began to fail. You can see this in the Daily Mails "Hurrah for the Blackshirts" which had a circulation of around 2 million people (in a population of 46 million at the time!). Hitler, Mussolini and Franco were very popular with ruling elites in the United States, Britain, Canada and much of Western Europe before, during and after World War II.
This is also demonstrated in Winston Churchill's views and actions, from his belief that, "the Aryan stock is bound to triumph".
The young Churchill charged through imperial atrocities, defending each in turn. When concentration camps were built in South Africa during the Boer War, for white Boers, he said they produced "the minimum of suffering". The death toll was almost 28,000, and when at least 115,000 black Africans were likewise swept into British camps, where 14,000 died, he wrote only of his "irritation that Kaffirs should be allowed to fire on white men". Later, he boasted of his experiences there: "That was before war degenerated. It was great fun galloping about."
Then as an MP he demanded a rolling programme of more conquests, based on his belief that "the Aryan stock is bound to triumph".(5)
To his even more evil deeds which mark him as a genocidal maniac in India which has led one Indian politician to say Churchill had as much blood on his hands as Hitler.
"…Nor is there any memorial to the massacres of the Raj, from Delhi in 1857 to Amritsar in 1919, the deaths of 35 million Indians in totally unnecessary famines caused by British policy," he added.(6)
"Churchill has as much blood on his hands as Hitler does, particularly the decisions that he personally signed off during the Bengal Famine when 4.3 million people died because of the decisions he took or endorsed." — Dr Shashi Tharoor,(7)
Not only did British inaction in India exacerbate the famines but it was actively encouraged by Churchill who remarked they "bred like rabbits". Britain actively turned away ships from Australia and America trying to supply grain to ease the famine.
In 1943, as millions were dying of starvation in 1943 in Bengal, the birthplace of the Raj, Churchill not only refused to help but prevented others from doing so, commenting that Indians "bred like rabbits." The Churchill industry, more interested in the great man's dentures than in his war crimes, has managed to keep this appalling story fairly quiet.
It establishes how Churchill and his associates could easily have stopped the famine with a few shipments of foodgrains but refused, in spite of repeated appeals from two successive Viceroys, Churchill's own Secretary of State for India and even the President of the United States.(8)
His passing into history as an iconic figure of immense stature happened in an almost Joseph Goebbels-like fashion.
The immense death that Churchill presided over made him a prime figure to conjure up the bizarre (but aptly named) Operation Unthinkable. The overall objective of Operation Unthinkable was to: "impose upon Russia the will of the United States and British Empire" (9)
"Quick success might induce the Russians to submit to our will at least for the time being; but it might not. That is for the Russians to decide. If they want total war, they are in a position to have it."
002
"Operation Unthinkable: 'Russia: Threat to Western Civilization,'" British War Cabinet, Joint Planning Staff [Draft and…web.archive.org
The Chief of the Army, Sir Alan Brooke, was disgusted with Winston Churchill and likened him to a warmonger. Brooke wrote in his diary:
'Winston gives me the feeling of already longing for another war!' (10)
According to Alan Brook, Churchill told him at the Potsdam Conference in July 1945:
"We can tell the Russians if they insist on doing this or that, well we can just blot out Moscow, then Stalingrad, then Kiev, then Sevastopol."- Churchill (9)
Churchill's callous regard for human life and fetish for nuclear annihilation is enough to send a chill down your spine.
Liberalisms relationship and preference with fascism can be seen today in the NATO alliance who released an 8 minute film glorifying the Latvian "Forrest Brothers" who were a cabal of SS collaborators.
By going beyond turning a blind eye to the worship of pro-Hitler forces in Eastern Europe," said historian David Katz, NATO "is crossing the line right into offering its moral legitimization of Nazi forces such as the Latvian Waffen SS."(11)
What stopped Churchill from going on this disastrous path?
The War Cabinet listed out the total allied strength in Europe on July 1, 1945: 64 American divisions, 35 British and Dominion divisions, 4 Polish divisions, and 10 German divisions. The German divisions were purely imaginary because after the mauling they received from the Russians, the surviving soldiers were in no hurry to fight. At most, the allies would have mustered 103 divisions, including 23 armoured ones.
Against this force were arrayed 264 Soviet divisions, including 36 armoured. Moscow commanded 6.5 million troops — a 2:1 advantage — on the German border alone. Overall, it had 11 million men and women in uniform.
In aircraft, the Allied Tactical Air Forces in North West Europe and the Mediterranean consisted of 6,714 fighter planes and 2464 bombers. The Soviets had 9380 fighter aircraft and 3380 bombers.(10)
The British army generals got a chance to breathe a sigh of relief as the plan was wholly dependant on the United States yet President Harry Truman expressed in no uncertain terms Truman addressed Churchill via cable, advising that the USA had no intention of participating in, let alone leading, Operation Unthinkable.(13)
The world instead got peace instead of a deranged old mans hunger for World War and nuking of Soviet cities. This peace was of course limited to the imperial core (North America/Western Europe and Japan). But at least Soviet cities weren't "blotted out" in nuclear annihilation.
The UK (of course) immediately set about sending war to Greece/Indonesia/Vietnam/the brutal dividing of Korea/Malaya/Egypt and Kenya.
Peace for the Soviets though was not an act of kindness from the West.
Peace was contingent on the superior strength of the Red Army at the time which deterred another World War.
The incredible propaganda of the west and the repeating of the "great lie" had led the enemy of the working classes and blood lust killer Churchill to be treated as a hero of Britain rather than a monstrous despot that almost led the world to ruin.
References:
(1) https://www.warhistoryonline.com/world-war-ii/west-german-government-full-ex-nazis-world-war-ii.html
(2) Ibid.
(3) Fraser J. Harbutt. Yalta 1945: Europe and America at the Crossroads. ISBN-10: 0521856779
(4) Harry Rositzke, quoted in Christopher Simpson, Blowback: America's Recruitment of Nazis and Its Destructive Impact on Our Domestic and Foreign Policy (Collier Books, 1989), p. 159.
(5) https://www.independent.co.uk/news/uk/politics/not-his-finest-hour-the-dark-side-of-winston-churchill-2118317.html
(6) https://www.independent.co.uk/news/world/asia/india-35-million-deaths-britain-shashi-tharoor-british-empire-a7627041.html
(7) https://www.independent.co.uk/news/world/world-history/winston-churchill-genocide-dictator-shashi-tharoor-melbourne-writers-festival-a7936141.html
(8) https://www.independent.co.uk/arts-entertainment/books/reviews/churchills-secret-war-by-madhusree-mukerjee-2068698.html
(9) Operation Unthinkable…, p. "1". Archived from the original on 16 November 2010. Retrieved 25 September 2015.
(10) Alanbrooke War Diaries 1939–1945: Field Marshall Lord Alanbrooke, 2002, ISBN-10: 1842125265
(11) https://www.alternet.org/grayzone-project/nato-celebrates-nazi-collaborators-who-murdered-jews-holocaust
(12) https://www.rbth.com/blogs/2013/06/13/
(13) https://www.warhistoryonline.com/world-war-ii/jack-lucas-fought-us-marines-get-japanese.html
For Home: